Thessaloniki Youth Club for UNESCO organised the Multiplier Event "Motivating Engagement > Multiplying Equality" on May 2nd, at the University of Macedonia in Thessaloniki, The event took place within the framework of the Project "Perform to Reform" that aims to raise awareness on LGBT issues.
---
During the first panel, moderated by Mr. Manos Kalaintzis, Lawyer, LLM, Ms. Eleni Tsetsekou, Head of Unit, Sexual Orientation and Gender Identity Issues, Directorate of Human Dignity and Equality-DG II, Council of Europe presented the recent report of the Council of Europe in cooperation with UNESCO: "Safe at school: Education sector responses to violence based on sexual orientation, gender identity/expression or sex characteristics in Europe".
Afterwards, Dr. Dimitra Kogkidou, Professor of psychology, Faculty of Education, School of Primary Education, Aristotle University of Thessaloniki. President of AUTh Gender & Equality talked about the issue of "Safe and inclusive universities, without violence and discrimination based on gender, gender identity/expression or sex characteristics and sexual orientation", while, Ms. Maria Brokou, Accredited Parliamentary Assistant (European Parliament) elaborated on "Gender equality in the EU politics".
The discussion was concluded with the comments of Dr. Vassilios Dagdilelis, Professor, Dept. of Educational & Social Policy, University of Macedonia, who highlighted the need for "Raising awareness and tolerance within the academia".
---
At the round table, moderated by Mr. Stavros Boufidis (Greek Transgendered Support Association), the following discussants shared their thoughts on issues concerning the role of NGOs and the civil society in the promotion of LGBT rights and tolerance:
Clara Amante Quintas Mendes  ("Stichting art.1" – The Netherlands)
Mitja Blazic "Društvo Kulturno (Legebitra" – Slovenia)
Zoe Kakota ("Accept LGBT Cyprus" – Cyprus)
Panos Skepadianos ("Thessaloniki Pride" – Greece)
Sofia Adam ("Heinrich Böll Stiftung – Office Thessaloniki – Greece)
Giorgos Tsitiridis ("Lighthouse of the world" – Greece)
Christos Derventlis ("Europe Direct Komotini" – Greece)
---
At the last session of the Multiplier Event, Ms. Stefania Bouri, Literature teacher, non-formal education trainer, facilitated a series of artistic workshop activities.
"Let's meet each other" activities
Frozen images
Write and act: participants were asked to work in small groups in order to write a poem and plan a performance based on it.
Time for action: participants received some clues and facts and they worked in small groups in order to create a story and perform it afterwards.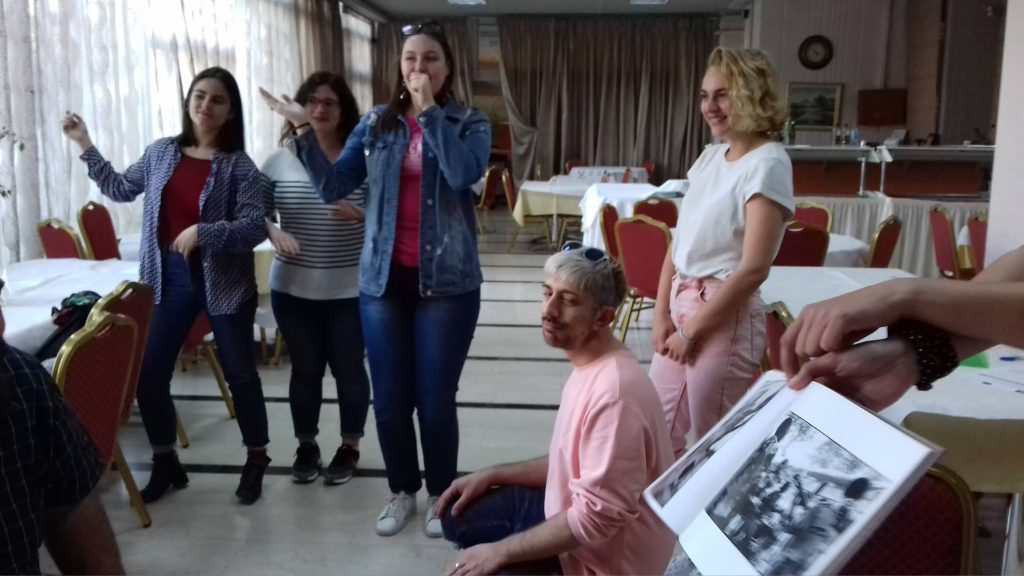 ---
Thessaloniki Youth Club for UNESCO is a partner at the Erasmus+ Project «Perform to Reform» along with the following organizations: Stichting art.1 (The Netherlands), Društvo Kulturno – Legebitra (Slovenia), Helsinki Committee for Human Rights (North Macedonia) and Accept LGBT Cyprus (Cyprus).
"Perform to Reform" fosters dialogue and cooperation within the partner organizations, addressing human rights, LGBT+, youth and culture issues. The Project aims to inform and sensitize the societies about non-discrimination and tolerance on LGBT issues. Main goal of the Project is the promotion of dialogue on sexual orientation, gender equality and diversity, by using creative artistic methods such as theatre actions, arts and narrative.
---